Save, Spend, Share Financial Literacy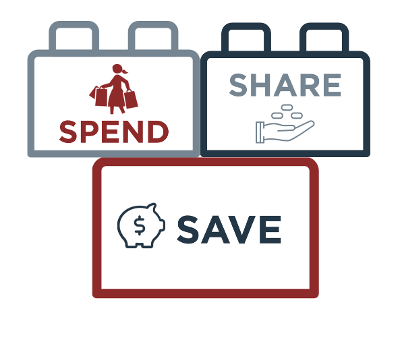 New Market Bank and Market Financial want to help parents put their kids on a path for a solid financial future. We know financial literacy begins by understanding saving, spending, and hopefully, sharing. Kids know how to spend! Let us help teach them how to save and share.
Every child under 13 who opens a savings account with us will receive a "Save, Spend, Share" bank (while supplies last). When the "save" block is full, come in to deposit the money. When the "share" block is full come in and donate to our monthly nonprofit at the same time. The bank matches the donations received during the month*.
Financial Literacy is Key to Effective Money Management for Youth
Former Federal Reserve Chairman Alan Greenspan once stated, "Financial education is a process that should begin at an early age and continue throughout life. This cumulative process builds the skills necessary for making critical financial decisions."
It's important for parents, grandparents and even friends to help our community's youth build a strong financial foundation for them to better understand basic concepts like saving, budgeting, simple interest, and establishing and maintaining good credit.
Story Time Video: "One Cent, Two Cents, Old Cent, New Cent."
Gather the kids around while Lori Felten, our Prior Lake Branch Manager, reads the Dr. Seuss book, "One Cent, Two Cents, Old Cent, New Cent."
Resources
ABA Youth & Money: Tips and resources from the ABA Foundation to help youth understand money concepts that will set them on the path to a smart financial future.
Family-At-Home Financial Fun Pack (modules for K-2, 3-5, 6-8, and 9-12)
How to Teach Kids Good Money Habits
Financial Literacy for Kids Resources and Activities from Financial Literacy Tools
Money As You Grow from the Consumer Finance Protection Bureau
MyMoney.gov Resources for Youth

*subject to limitations.